SOCIAL DISTANCE RUN #2




Running for the Planet



We are pleased to invite you again this year to our worldwide 2nd Social Distance Run #runnningfortheplanet2021 on September 26th 2021.
As part of the Tree Day in Brazil, there will be a tree-planting campaign for our "Living Source" environmental project on September 22th 2021 – in compliance with all currently required hygiene measures. In an act of solidarity, we want to run together for this action! For every runner we plant a tree in our project and collect donations for the other projects' goals.
When: 26th of September 2021
Where: From your place, on your favourite route and as long as you want!
Who: Runners all over the world – no matter where they are – run for the project "Living Source". Whether individuals, sports clubs or running groups: everyone is welcome to participate in the run. (Corona rules apply)
Start: Register free of charge here: https://forms.gle/dwYfUjJecwaaakMW8
Triodos Bank will donate a tree to our project for each registered runner.
During the run: All runners / walkers post a picture or video under the hashtag #runningfortheplanet2021 on:
Instagram: @tarahumarafans
Facebook group: https://www.facebook.com/groups/180945139339817 (you can also link us in your story or post)
It would be especially nice if the picture or video shows a symbol of the city or country where you are running. This could be the Eiffel Tower, the Sugar Loaf Mountain, a typical national route catering or simply a written sheet with the message #runningfortheplanet2021 + name of the city (e.g. Paris, Rio…). There are no limits to your creativity!
Goal: To promote our "Living Source" project and to link our international community even more closely!
After the run: We will make a collage with all runners on our social media
ATTENTION: We will only publish pictures and videos on which the Corona hygiene measures are respected!
NOTE: By uploading / publishing the photos, the participants expressly agree that they may be used by and in connection with the Tarahumara fans on other channels!
About the environmental project: In this link https://runningfortheplanet.com/wp-content/uploads/2021/09/Living-Source-Project-Information_English.pdf you will find information about our project, what we have already achieved – and what we still want to achieve together. With #runningfortheplanet2021 we start for the next project goals:
• River source infra structure with environmental station
• 2/3 Renaturation of the riverbank
Other donation possibilities:
1. Via this link from 5€ on:
https://www.betterplace.org/en/projects/73794-nascente-viva-lebende-quelle
2. Purchase of our stylish compostable T-shirt for 30€.
Order via: info@tarahumarafans.com
3. Donation on our account account in Germany:
Triodos Bank Deutschland – IBAN DE 055 0031 0001 0599 09009 – BIC TRODDEF1
Download more Information about the run here as a PDF.
Thank you very much
Team Tarahumara Fans
Run Dates
Our activities are organized as follows:
a. Events where we run for our projects. See calendar below.
b. Our own run training 2x a week.
c. Selected running events
Become our fan and learn more about our activities:
Facebook: Fans of Tarahumara – Running for the planet
Instagram: #tarahumarafans
With pleasure also through the email:
Email: info@tarahumarafans.com
If you are interested in an event, please send an email before 🙂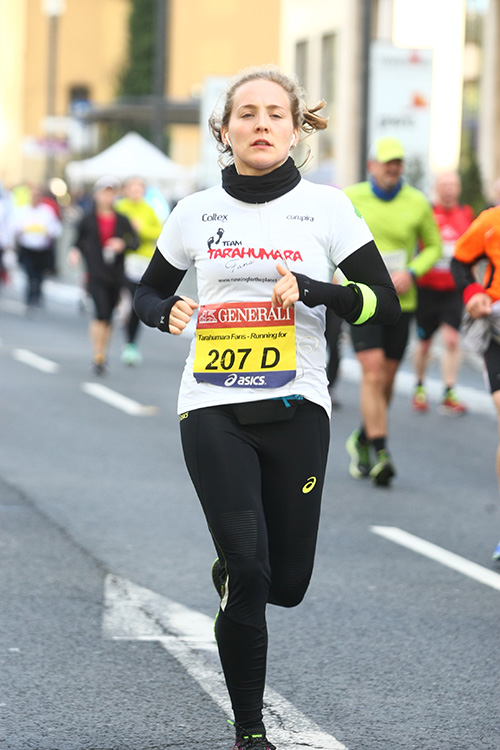 Run meetings in Frankfurt –  Germany:
Tarahumara  – Barefoot Run Encounter
Tuesdays 6:30 p.m. 
Where: Siesmayerstr. 68 – 60323 Frankfurt. At Grüneburgpark in front of the coloured building. This meet&run is for everybody who is interested in running barefoot or with minimalistic shoes.

Tarahumara – Run Encounter with convencional run shoes
Sundays 10:30 a.m.
Where: Siesmayerstr. 68 – 60323 Frankfurt. At Grüneburgpark in front of the coloured building. For barefoot runners as well as conventional runners.
Covid-19 rules apply.
2021 Some events depend on the further COVID19 development! 


March 27 – April 18  Mainova Halfmarathon www.frankfurter-halbmarathon.de
Mainova organizes a Social Distance Run as Halfmarathon– no registration or fees Tarahumara Fans e. V. will participate with teams of two people at the weekend April 10/11. If you join the run, we would love you to wear our shirts and post & tag us on Facebook and Instagram. Please make sure to follow the current COVID19 rules.
April 24  Treeplanting Event in Idstein within Deutsche Bank "social day" in cooperation with Trinkwasserwald® e.V. and regional foresters. With an active participation of Tarahumara Fans e. V. we can assure a donation from Deutsche Bank for our projects again. If you are interested in participation or would like more information, please contact us: info@tarahumarafans.com
June 6 Solidarity Run 
The indigineous community in our project area of Nascente Viva in Brazil had planned a tree planting event during the environmental week at the beginning of June. Unfortunately, due to the current situation, this had to be cancelled. Nevertheless, we will organize a solidarity run at Grüneburgpark.
Meeting point: 10:30 a. m. Siesmayerstr. 68 in front of the colourful building of Jugendverkehrsgarten.
Route: 2 k per round – everybody runs their own speed and distance – suitable for barefoot runners.
We would also love for you to run on your own that down, whereever and whenever – please tag us on our social media channels using the #nascenteviva.
For 2022, we are planning to build a center for environmental education in our project area in Brazil – please use the following link for more information or donations: https://www.betterplace.org/de/projects/73794-nascente-viva-lebende-quelle
June 19  Run on the occasion of 30th anniversary of Frankfurter Grüngürtel
The society Umweltlernen Frankfurt has organized  a midsummer walk along the Grüngürtel on this day (full distance: 68 k / half distance: 30 k). You can find more information here!
As an alternative, Tarahumara Fans will run a shorter section on that day, meeting point is on Jun 19 at 10:30 a. m. at Barfüßer in Rödelheim; from there, we will run to the Alte Schiffsmeldestelle in Höchst (around 8 k) and – for whoever would like to – back again to the Barfüßer on the other side of the river Nidda.
Please sign up until Jun 11 at: info@tarahumarafans.com
July 4 / 10:30 a.m.: barefoot friendly 12 k route from Dirk
Dirk is an experienced barefoot runner, who has been active with Tarahumara Fans for a long time. During the lockdown, he discovered his new favorite route and would love to share it with us – it is suitable for running barefoot or with shoes. In summary, the route contains 100 m up and down and there is a lot to see and smell. The ground indulges the feet with wonderful asphalt, sunwarmed tar (70%), smooth paving stones (10%), caressing meadows and buttersoft earth (15%).
Start / Finnish: Wartburgkirche, near Günthersburgpark. Hartmann-Ibach-Straße 108, 60389 Frankfurt am Main
If you would like to run a shorter route, there will be bus stops available after 1,5 k, 6 k and 8 k where you can take the bus back to start/finish.
If you are interested to join us, please contact: 
info@tarahumarafans.com
Jul 15 / 3:00 p.m.: Cooking Event for La Strada– Drug Support Center from AIDS-Hilfe Frankfurt e. V.

This event takes place in cooperation with Deutsche Bank "social day". La Strada is a low threshold contact cafe with integrated drug consumption room, emergency sleeping accommodation, and assisted living. Currently, it supports around 150 people per day with food products. The cooking event will further help to integration them into society . With an active participation of Tarahumara Fans Deutsche Bank supports our projects again this year. We need one more person for our cooking team, if you are interested please contact: 
info@tarahumarafans.com
August 28 and 29 WirDueller-Bio-Lauf oby the BioRunners on the occasion of Querbeet's 25th anniversary as a delivery service. Distances: 5 and 10 km. Time: Saturday and Sunday from 8am to 6pm – scoring will be online by Sunday midnight. Further information: www.biorunner.de
September 26 #runningfortheplanet2021 Social Distance Run – our 4the run 😊 including a tree planting event. With regard to the day of the tree in September, indigenes and pupils of our project are running in Brazil. We also show our solidarity again this year and organize a worldwide Social Distance Run. On this day, also 333 trees we ran for last year will be planted. Our run makes the world a little greener!
October 31 Frankfurt Marathon www.frankfurt-marathon.de (currently the event is planned to take place in presence). We will join again the relay marathon and full distance. And also, we will have a booth at Marathon Messe from October 29 – 31. We are looking forward to your visit.
November 20 – 28  Barefoot run within European Week of Waste Reduction. Further information will follow.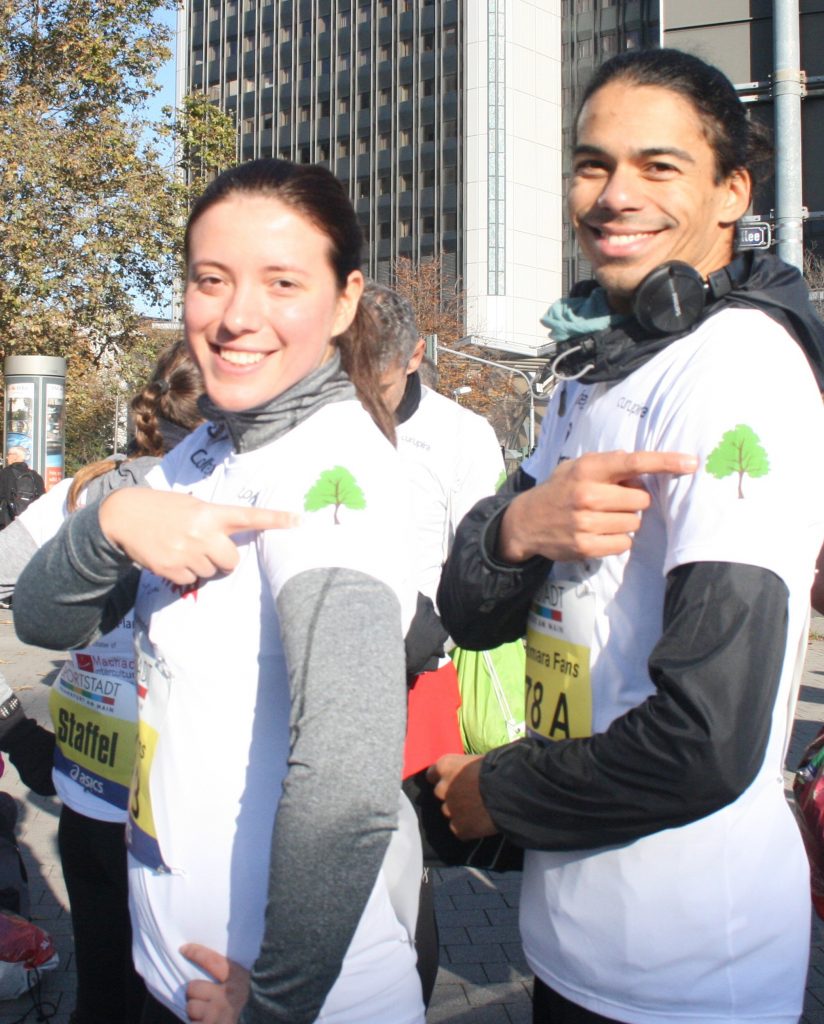 The more runners we have, the more projects we can support. Come  run with us
We have our own race, the "Running for the Planet" in the summer in Frankfurt – Probably the most sustainable race in the world. Here we will run specifically to support our goals.
The Frankfurt Marathon is also specific to our projects, so the registration is through us
We run most of times in races with social purpose. At distances between 5, 21 and 42 km (also in relay)
Be part of our team or our fan and find out more about our runs:
Facebook and Instagram : Tarahumara Fans – Running for the Planet or info@tarahumarafans.com