SOCIAL DISTANCE RUN #2
Running for the Planet
Nos complace invitar a nuestra 2a Carrera mundial con Distancia Social  #runnningfortheplanet2021 el 26 de septiembre.
Debido al día del árbol en Brasil, habrá una plantación de árboles para nuestro proyecto ambiental "Nascente Viva" el 22 de septiembre, en cumplimiento de todas las medidas de higiene debidas al covid-19! En solidaridad, correremos por este acto en acción global! Para cada corredor, plantamos un árbol y recolectamos donaciones para los siguientes objetivos del proyecto.
Dónde: En todo el mundo, una carrera con distancia social para!
Cuándo: 26 de septiembre de 2021 – estés donde estés, en tu ruta favorita y durante el tiempo que quieras.
¿Quién?: Corredores de todo el mundo, no importa dónde estén, corren al proyecto "Nascente Viva". Ya sean individuos, clubes deportivos o grupos de carreras: todos son bienvenidos a unirse a la carrera.
Inicio: Inscripción gratuita: https://forms.gle/znuSmQKckpKVJeJC8
Triodos Bank donará un árbol por cada corredor inscripto.

Durante la carrera: Todos los corredores / caminantes publican una foto o un vídeo bajo el hashtag #runningfortheplanet2021 o en Instagram: @tarahumarafans, o en nuestro grupo de Facebook: https://www.facebook.com/groups/180945139339817
Sería genial si la foto o el vídeo mostrara un símbolo de la ciudad o el país en el que estás corriendo. Esto podría ser la Torre Eiffel, el Pan de Azúcar, una típica ruta nacional o simplemente una hoja escrita con el mensaje #runningfortheplanet2021 + nombre de la ciudad (por ejemplo, París, Río…). ¡No hay límites para tu creatividad!
Objetivo: promover nuestro proyecto "Nascente Viva" y para unir aún más a nuestra comunidad internacional.
Después de la Carrera: Se hará un collage con todos los corredores.
ATENCIÓN: Sólo publicaremos fotos y videos en los que se respeten las medidas de higiene de la corona!
NOTA: Al cargar/publicar las fotos, los participantes aceptan expresamente que pueden ser utilizadas por y en conexión con la asociación organizadora Tarahumara Fans en otros canales.
Sobre nuestro proyecto: En este link https://runningfortheplanet.com/wp-content/uploads/2021/09/Naciente-Viva-Proyecto-Information_Español.pdf
encontrarás información sobre nuestro proyecto, lo que ya hemos logrado – y lo que aún queremos lograr juntos. Com #runningfortheplanet2021 corremos pelos siguientes objetivos:
• Infraestructura de manantial fluvial con estación ambiental
• 2/3 renaturalización de la ribera del río Jaguapirú
Otras posibilidades de donaciones a partir de 5€:
1. A través de este link:
https://www.betterplace.org/en/projects/73794-nascente-viva-lebende-quelle
2. Compra de nuestra elegante camiseta compuesta por 30€. Orden: info@tarahumarafans.com
3. A través de nuestra cuenta en Alemania:
Triodos Bank Deutschland – IBAN DE 055 0031 0001 0599 09009 – BIC TRODDEF1
Aquí puede encontrar más información sobre la carrera (descarga en PDF).
Muchas gracias,
Team Tarahumara Fans
Fecha de Carreras
Nuestras actividades se organizan de la siguiente manera:
a. Eventos donde corremos por nuestros proyectos. Ver calendario a continuación.
b. Nuestro propio entrenamiento de carrera 1x por semana.
c. Eventos en ejecución seleccionados
Conviértete en nuestro fan y aprende más sobre nuestras actividades:
Facebook y Instagram: Fans de Tarahumara – Running for the Planet
Con mucho gusto también a través del email:
Email: info@tarahumarafans.com
Si tiene interés en algún evento, por favor mandar antes un email 🙂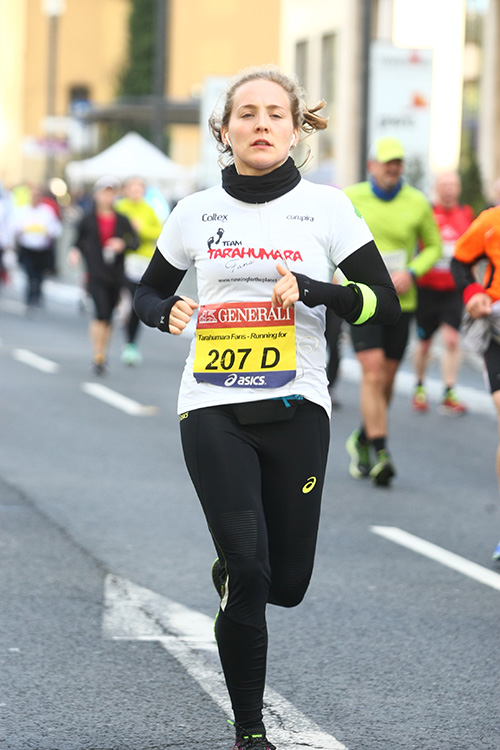 Entrenamientos en Frankfurt – Alemania:
Tarahumara – Encuentro de carrera descalzo
Martes 6:30 p.m.
Dónde: Siesmayerstr. 68 – 60323 Frankfurt. En el parque Grüneburgpark frente al colorido edificio. Esta reunión es para todos los que corren o quieren aprender a correr descalzos.

Tarahumara – Encuentro de carreras con calçado tradicional
Domingos 10:30 a.m.
Dónde: Siesmayerstr. 68 – 60323 Frankfurt. En el parque Grüneburgpark frente al colorido edificio. Para corredores descalzos o de estilo tradicional.
Si quieres participar escríbenos: info@tarahumarafans.com
Se aplican las reglas de Covid-19.
2021 ¡Algunos eventos dependen del desarrollo de COVID19! Eventos en Alemania y Brasil.

March 27 – April 18  Mainova Halfmarathon www.frankfurter-halbmarathon.de
Mainova organizes a Social Distance Run as Halfmarathon– no registration or fees Tarahumara Fans e. V. will participate with teams of two people at the weekend April 10/11. If you join the run, we would love you to wear our shirts and post & tag us on Facebook and Instagram. Please make sure to follow the current COVID19 rules.
April 24  Treeplanting Event in Idstein within Deutsche Bank "social day" in cooperation with Trinkwasserwald® e.V. and regional foresters. With an active participation of Tarahumara Fans e. V. we can assure a donation from Deutsche Bank for our projects again. If you are interested in participation or would like more information, please contact us: info@tarahumarafans.com
June 6 Solidarity Run 
The indigineous community in our project area of Nascente Viva in Brazil had planned a tree planting event during the environmental week at the beginning of June. Unfortunately, due to the current situation, this had to be cancelled. Nevertheless, we will organize a solidarity run at Grüneburgpark.
Meeting point: 10:30 a. m. Siesmayerstr. 68 in front of the colourful building of Jugendverkehrsgarten.
Route: 2 k per round – everybody runs their own speed and distance – suitable for barefoot runners.
We would also love for you to run on your own that down, whereever and whenever – please tag us on our social media channels using the #nascenteviva.
For 2022, we are planning to build a center for environmental education in our project area in Brazil – please use the following link for more information or donations: https://www.betterplace.org/de/projects/73794-nascente-viva-lebende-quelle
June 19  Run on the occasion of 30th anniversary of Frankfurter Grüngürtel
The society Umweltlernen Frankfurt has organized  a midsummer walk along the Grüngürtel on this day (full distance: 68 k / half distance: 30 k). You can find more information here!
As an alternative, Tarahumara Fans will run a shorter section on that day, meeting point is on Jun 19 at 10:30 a. m. at Barfüßer in Rödelheim; from there, we will run to the Alte Schiffsmeldestelle in Höchst (around 8 k) and – for whoever would like to – back again to the Barfüßer on the other side of the river Nidda.
Please sign up until Jun 11 at: info@tarahumarafans.com
July 4 / 10:30 a.m.: barefoot friendly 12 k route from Dirk
Dirk is an experienced barefoot runner, who has been active with Tarahumara Fans for a long time. During the lockdown, he discovered his new favorite route and would love to share it with us – it is suitable for running barefoot or with shoes. In summary, the route contains 100 m up and down and there is a lot to see and smell. The ground indulges the feet with wonderful asphalt, sunwarmed tar (70%), smooth paving stones (10%), caressing meadows and buttersoft earth (15%).
Start / Finnish: Wartburgkirche, near Günthersburgpark. Hartmann-Ibach-Straße 108, 60389 Frankfurt am Main
If you would like to run a shorter route, there will be bus stops available after 1,5 k, 6 k and 8 k where you can take the bus back to start/finish.
If you are interested to join us, please contact: 
info@tarahumarafans.com
Jul 15 / 3:00 p.m.: Cooking Event for La Strada– Drug Support Center from AIDS-Hilfe Frankfurt e. V.

This event takes place in cooperation with Deutsche Bank "social day". La Strada is a low threshold contact cafe with integrated drug consumption room, emergency sleeping accommodation, and assisted living. Currently, it supports around 150 people per day with food products. The cooking event will further help to integration them into society . With an active participation of Tarahumara Fans Deutsche Bank supports our projects again this year. We need one more person for our cooking team, if you are interested please contact: 
info@tarahumarafans.com
August 28 and 29 WirDueller-Bio-Lauf oby the BioRunners on the occasion of Querbeet's 25th anniversary as a delivery service. Distances: 5 and 10 km. Time: Saturday and Sunday from 8am to 6pm – scoring will be online by Sunday midnight. Further information: www.biorunner.de
September 26 #runningfortheplanet2021 Social Distance Run – our 4the run 😊 including a tree planting event. With regard to the day of the tree in September, indigenes and pupils of our project are running in Brazil. We also show our solidarity again this year and organize a worldwide Social Distance Run. On this day, also 333 trees we ran for last year will be planted. Our run makes the world a little greener!
October 31 Frankfurt Marathon www.frankfurt-marathon.de (currently the event is planned to take place in presence). We will join again the relay marathon and full distance. And also, we will have a booth at Marathon Messe from October 29 – 31. We are looking forward to your visit.
November 20 – 28  Barefoot run within European Week of Waste Reduction.
Further information will follow.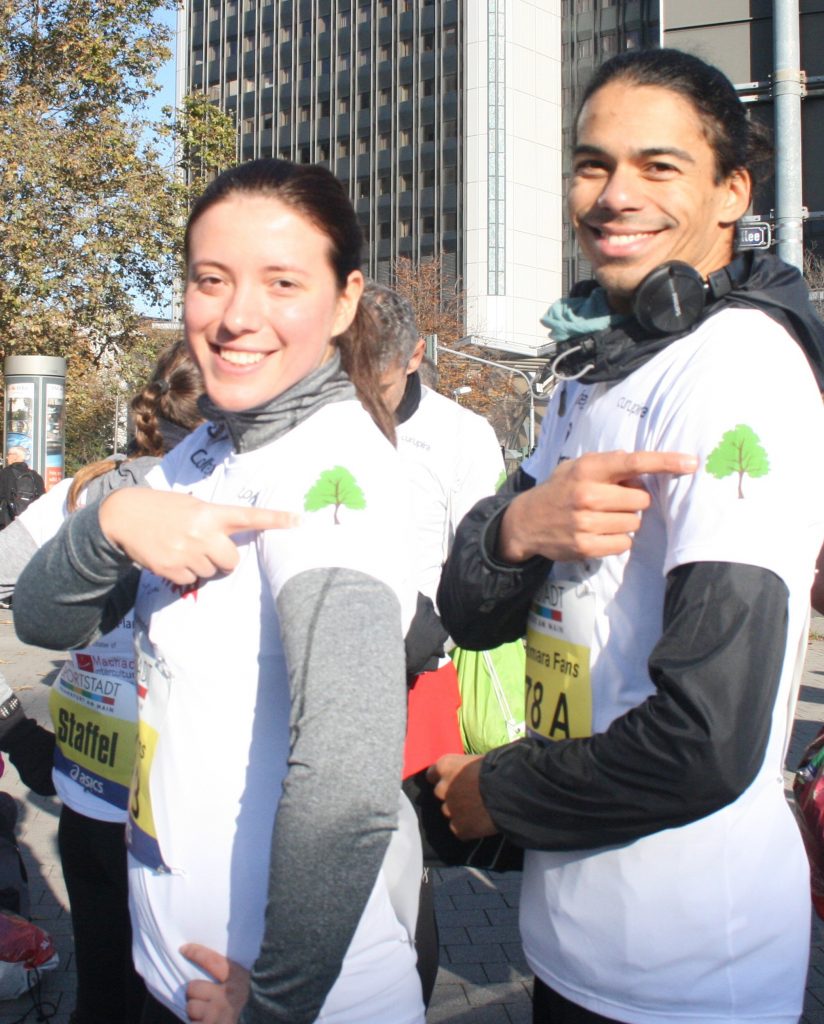 • Cuantos más corredores, más apoyo para nuestros proyectos. Ven y corre con nosotros!
• Nuestra carrera principal es nuestra propia carrera Running for the Planet en septiembre: Probablemente la carrera más sostenible del mundo. Aquí corremos específicamente para nuestros proyectos
• En la carrera Frankfurt Marathon (en relevo), apoyamos con su cuota de inscripción y su donación a un proyecto social o ambiental, en este caso, la aplicación para essas carreras se ejecuta directamente sobre nosotros.
• Corremos especialmente carreras benéficas con distancias entre 5 y 21 km y 42 km (también en relevo)
• Sea nuestro fan y sepa más sobre nuestras carreras:
Facebook y Instagram: Tarahumara Fans – Running for the Planet o info@tarahumarafans.com